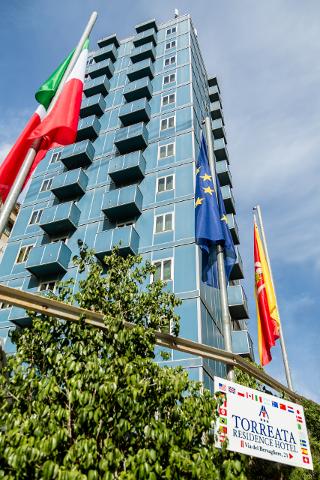 Il Torreata Hotel & Residence. The Torreata Residence & Hotel is a tower building of 12 floors. Built in 1985, it is now in its third generation with the entry in the company of Manfredi and Mauro Ranieri. The hotel was completely renovated in 2004 and placed in the Italian quality guide for hospitality and awarded the Quality Italian Hospitality Brand for 3 stars hotels and Classic Italian Restaurants category. The Torreata Hotel & Residence is located in via del Bersagliere, residential area of Palermo and strategic point for easy access to many destinations, each of which offers a different solution for your stay. It provides you with a beautiful view on Monte Pellegrino and the Parco della Favorita.
The Torreata is doubtless the most convenient choice for sports, due to its proximity to the main sports centres of the city, but is also ideal for a romantic getaway or a business stopover..
Who want to choose a flexible vacation, or want to have the comforts of home and be free to visit Palermo can choose the Formula Residence.
The Torreata Hotel & Residence offers 29 apartments. The Formula Residence includes accommodation in Studios or in two-roomed apartment, from 1 up to 4 people.
Prepare your own meals comfortably and independently, using the kitchenette. 
The cleanings and linens change are provided every three days. You can reserve a private parking with video surveillance inside the structure.
Servizi Extra

The Torreata has a large and convenient parking, free video surveillance for 36 cars and has a garage with covered parking for a fee. The hotel allows you to have access to the facility respecting your privacy, opportunity really interesting both for sales agents, both for those who want privacy. Our guests can also enjoy a massage service on request, in a dedicated room on the thirteenth floor, which offers a beautiful view of Monte Pellegrino.